Showcasing Innovation, Advancements & Experiences
Attendees have to stay at the forefront of the plumbing engineering industry, and they're counting on you to lead the way.
Your Complimentary Expo Hall Registration Includes:
Access to the show floor
Ability to meet with more companies specialized in plumbing systems design than any other event
Non-stop networking with qualified industry professionals who know the business
Complimentary education sessions in the Innovation Theater on the show floor
Participation in all prize drawings on the show floor
Ability to earn continuing education credit just for walking the show floor (additional fee required)
Exhibitor hospitality events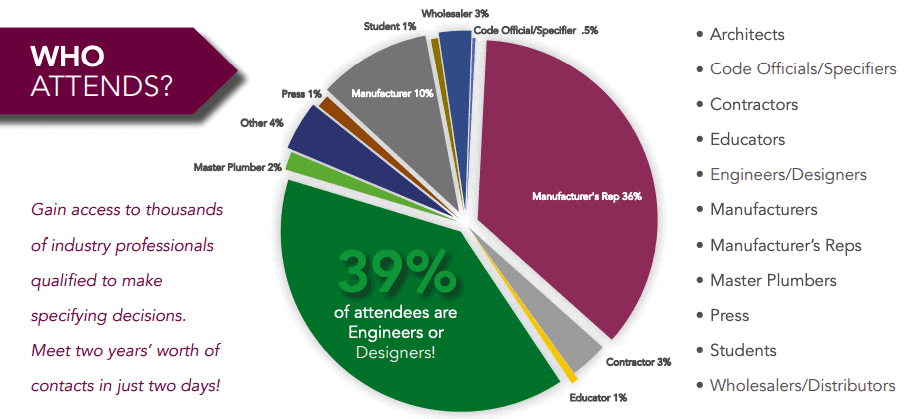 Our show floor features hundreds of companies showcasing innovation, advancements, and experiences.
• Accessories • Actuators • Air valves & systems • Automatic valves • Design consulting • Disaster preparedness / prevention / recovery • Drains / drain systems • Drinking fountains / water coolers • Faucets • Fire protection equipment • Fire pumps, engines, controllers, accessories • Fixtures – stainless steel • Fixtures – tubs / toilets / basins • Grease, oil & solids interceptors • HVAC • Industry association • Media / associations • Pipe couplings, fittings & systems • Piped gas systems • Plumbing booster systems • Plumbing fixtures & fittings • Project management tools • Pumps & tanks • Rainwater / stormwater collection systems • REVIT / BIM provider • Safety & emergency equipment / fixtures • Safety products & technology • Security fixtures • Sewage pumps & equipment • Shower systems • Sinks & basins • Tanks – pressure / storage • Toilet / toilet seats • Tools • Traps • Vacuum pumps & systems • Valves • Wash fountains • Water heaters • Water treatment
Federal Funding Accelerates Building Infrastructure Upgrades
According to ConstructConnect, over the next five years, new federal investments will provide $55 billion in additional funds to upgrade water infrastructure. Be prepared to get your share! Find out the latest economic trends in construction. Now is the time to get your share of business at the only event targeted to the niche audience of plumbing design engineers.
Spotlight Your Technical Solution
The ASPE Convention & Expo is the ONLY plumbing engineering design event where exhibitors are encouraged to highlight the technical aspects of their innovations. This provides an invaluable opportunity to directly educate and influence a highly-engaged audience of engineering and designer attendees.
Plus, the ASPE Convention & Expo is 100% focused on bringing qualified decision makers to your booth. As a result, attendees stay on the show floor the entire day, captivated by the quantity and quality of solutions found only at the ASPE Convention & Expo:
Show Floor Education – From the inner-workings of your products and services to the latest and greatest the industry has to offer, the exhibit floor provides several different learning opportunities.
Food – Lunch and snacks are served directly on the show floor to all attendees.
Prizes – All attendees are eligible to win prizes throughout the day, enticing them to stay the whole time for a valuable experience in every sense.
Optimize Your Exhibitor Experience
Take advantage of the following opportunities to enhance your overall event participation and ROI:
Patron Program – Gain exclusive recognition as a member of the Patron Program.
Sponsorship Opportunities – Become an ASPE sponsor and take advantage of exclusive benefits, maximum exposure and exclusive access to your prospective clients. sponsor opportunities coming soon!
Exhibit at the 2024 ASPE Convention & Expo
Exposition:
October 21, 2024: 11:00 a.m. – 5:00 p.m.
October 22, 2024: 10:00 a.m. – 3:00 p.m.
Booth Rate:
$34 per square Foot
Contact Tony Hayes for information on exhibiting at the 2024 ASPE Convention & Expo.
Tony Hayes
Sales Account Executive
Phone: 571.313.5793